Collaboratory launches publication on Human Rights and Internet Governance at IGF 2012 in Baku
Alice Munyua, Wolfgang Kleinwaechter,
Markus  Kummer, Nicolas Seidler
and Joy Liddicoat at IGF Baku
Titled
"Human Rights and Internet Governance"
, the publication brings together 14 authors in a debate on freedom of expression, human rights and internet governance. The proposition essay is by
Nobel Peace Laureate Shirin Ebadi
. Among the responses from civil society, the private sector, academia and government, is
Sweden's Foreign Minister Carl Bildt
. Click here to access the texts.
Shirin Ebadi emphasizes in her essay (which we are also publishing in Persian, exclusively online under this link) that freedom of expression is the first step to democracy. But how can a
nation achieve
its desired society
if
it is unable to express its
demands and
ideas? The internet, and access to the internet, is a decisive factor – it needs to be the goal to provide all people with the opportunity to benefit from an internet without restrictions.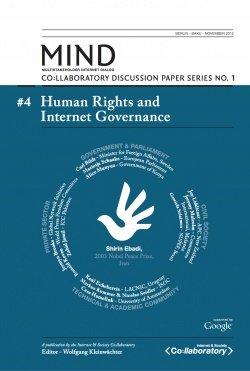 In response, twelve experts from the four named areas cope with Ebadi's essay and the subject:
From civil society,
Joy Liddicoat
(
Association for Progressive Communications) adds to Ebadi'
s proposition, e.g. that freedom of expression only takes its full force for democratic change when we can exercise it together with all of our other rights and freedoms. Human rights must be a main focus of all discussions at the IGF. 
As one stakeholder in the area of government and parliament, Carl Bildt points out, that the Internet is the new Frontline in the Work for Freedom in the World.
Our rights in the offline world are equally applicable in the online world.
Jermyn Brooks
(
G
lobal Network Initiative)
as one expert from the private sector
reveals that companies shall think about the implications of their work form human rights and that they can help to realize human rights worldwide together with other stakeholders.
As part of the academic-technical sector,
Raúl Echeberría
(LACNIC) asks to consider, that freedom of expression is not only endangered by authoritarian regimes. Security concerns and property rights shall not lead to censorship of freedom of expression on the Internet.
Finally, editor
Wolfgang Kleinwächter
calls attention to the fact that
developments in Internet governance and Internet technologies impact human rights. It is therefore fundamental
to develop more concrete procedures for a human rights impact assessment on Internet technology and governance in order to make sure that we can maximize the positive effects while minimizing the negative effects.
The Internet & society Collaboratory publishs the discussion paper series MIND alternately in German (in spring for the German IGF) and English (for the international IGF). Please find the previous as well as the actual papers here. We welcome your feedback.